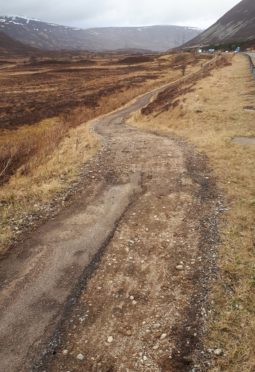 I was travelling north to Skye and back last week and both times came across about a dozen cyclists on the actual A9 road instead of the cycle path, which is visible just beyond. I tweeted about this and had an avalanche of responses from regular cyclists pointing out that the cycle path is in very bad condition in some stretches, and that's why cyclists are risking their lives by cycling on the A9. The biggest problems seem to be pebbles and grit.
Here for example, is mountaineer Cameron MacNeish (who lives near Aviemore) responding to some people who despair of any official action, suggested they fix the path themselves with volunteer labour;
"More than happy to be involved in work party but it's too long a stretch for one person. Much of it needs resurfaced. Some work was done a few years ago but the contractors lined the tarmac with small stones. First heavy rain washed them onto the tarmac. Like cycling over marbles"
I wanted to know who is responsible for maintenance and whether transport Scotland consider the A9 cycle path is currently fit for use in its entirety – particularly that ten mile stretch north of Calvine where I saw the cyclists on the road. I'm still 

waiting

 for them to answer, but discovered via Sustrans that Bear Scotland are responsible for maintaining that section of the A9 

cycle path. 
Today I got this statement from a BEAR Scotland spokesperson: "We're working to upgrade sections of the footway which have been damaged through the use of All-Terrain Vehicles (ATVs) after Transport Scotland received complaints about the cycle path in the area next to the A9. Earlier this year our team swept the cycleway for a distance of 19km and removed some of the encroaching overgrowth at the sides of the path to make them wider.  We've since carried out a survey to determine the extent of the damage, and we've designed a project to address the worst affected areas. We'll be carrying out a £300,000 project to resurface almost 5km of the route between Dalnaspidal and Dalwhinnie next to the A9, with the project expected to get underway in August.  We'll be carrying out consultation in the next few weeks with SUSTRANS and other stakeholders as the cycle path will be restricted for safety during the improvements. We're also in the process of arranging a Cycling Workshop for the Perth and Kinross area with representatives from the local authority, SUSTRANS and Transport Scotland to ensure a joined up approach to the maintenance and provision of cycle ways in the area."
I'm pretty sure the 5kms stretch mentioned is not the bit where I saw cyclists on the road. But I've never cycled the route  - so what do regular cyclists think of this "solution"?